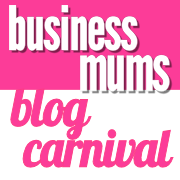 Thank you to everyone who has submitted a post to this month's blog carnival. As you can see we have had lots of interesting posts submitted coming from all different types of businesses from those like Littlesheep Learning who are online retailers to those offering business support and services to other businesses (or those looking to start them). I think it is really interesting seeing how these posts all come together and I hope that you all enjoy reading the carnival and it's linked posts and possibly find some new blogs to read.
So here it goes…
First of all are two posts about getting started in business - Wondering from Boy Wonder Gifts and When Mums mean Business from Become a Mumpreneur both give tips for those wondering if they could indeed start their own business. Affiliate Tips suggest that affiliate marketing is a great potential career and Family Budgeting tells us that whilst she loves the Apprentice it should be remembered that starting a business isn't quite as simple as Lord Sugar makes out!
Once you've got started we have a whole host of advice posts for you…
One of the first things a new business needs to do (and established ones can often benefit from) is knowing your customers and the getting to know your audience post from Family Friendly Working helps give you some pointers.
Once you know your customers you need them to notice you so check out the ideas for press releases from PR Basics, how to grab attention with your blog headlines from The Virtual Assistant and marketing via QR codes from Joanne Dewberry.
The post from Business Plus Baby Sales: Are you giving it the attention it deserves? makes a good point about sales versus marketing that is worth remembering too and how to Make Money Online reminds us about the importance of finances with the post 8 Ways to Keep a Positive Cashflow.
If it's all getting too much (especially with summer holiday approaching) Ace Inspire Training have some tips with the post delegation's all you need and Alison Bradford's post about how to keep things simple might help.
I really enjoyed this post from Grace Marshall about definition of success – it's always good to step back and think about why you are in business when things aren't going to plan and are you lying about being self-employed to your partner from Elinor Wilde is also an interesting read (I think it applies to other people who ask about your business too).
Motivation is a key thing and how do you like them apples? from Change for Success looks at how we reward people for their achievements and how this helps get good results – like Sherry I have been shortlisted as a NCT Volunteer of the Year and I'm also thrilled to have become a MADs Finalist (please go and vote for me!) – these nominations by fellow volunteers / bloggers really help me keep going.
Then we get on to the lifestyle posts…
Apples, Pears and Hourglasses from Beautiful Swans reminds us to focus on the bits of our body we like and learn to dress according to our shape (something I must remember for the awards ceremonies I'm going to be attending as I hate clothes shopping – any offers of help gratefully received!).
Kids Travel 2 are sharing their travel inspiration in Who, What, When, Where – which is very interesting and makes me thing I should get my children travelling a bit more as I do think that our childhood experiences of travel  shape us later in life.
And with the hot weather (either here at home over the last week or when you are off on your holidays) don't forget the importance of W is for Water and Water Bottles as explained by Lunch Box World and here's a post I wrote on Sunny Days.
Finally – inspiring the next generation of entrepreneurs is KiddyCharts with her Working Mum's get your Kids in the Boardroom post.
Hopefully I haven't missed out any posts I was sent – if I have just drop me an email and I'll try and edit the post!